The following page is under construction.

Please do not edit or alter this article in anyway, other than stuff like spelling corrections, while this template is active. All unauthorized edits may be reverted on the admin's discretion. Propose any changes to the talk page.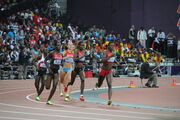 The event
The 2032 Mexico City Olympics was a time for the world to rejoice over. It was not very controversial beyond a few drug cheats and was known for it's honesty and fair play.
Medals
Chechen bomb threat
.
The 4 drug cheats
3 Russian wieght lifters and an American wrestler were booted for taking performance inhancing steriods.
Other stuff
A German rower voluntarily left the Olympic village because she was married to leading Austrian National Socialists activist.
An Australian rower was expelled from the Australian team after vandalizing shops and a bus shelter whilst drunk.
A St. Kittian sprinter was removed from the men's 100m sprint before the heats by the St. Kitts and Nevis Olympic Committee after leaving the Athletes' Village without permission to spend a night in a hotel with a local prostitute.
A Swiss footballer was sent home by the Swiss Olympic football team after he sent a tweet following their 7-2 loss against South Korea, saying that South Koreans "can go burn under a nuke" and referred to them as a "bunch of Syngman Rhee loving mongoloids" and "turd heads.".
The US and English Olympic Committee imported food for their athletes, citing baseless concerns regarding the safety of food products produced in Mexico.
A Spanish spectator was expelled from the Portugal vs. Spain muggle quidditch (real word variant of the Harry Potter game) final for wearing a t-shirt with the slogan- "Mata a todos los Portugueses y los Gibraltareños!" ("Kill all Portuguese and Gibraltarians!"). Spain ultimately lost to Portugal at the end of the match any way.
A South Korea burst on to the hockey field during a S. Korea/Japan match holding a banner with a message written in Korean, "독도는 우리 땅!" (Transliteration- "Dokdo neun uri ttang!". English- "Dokdo is our territory!"). Japan beat S. Korea in the match anyway.