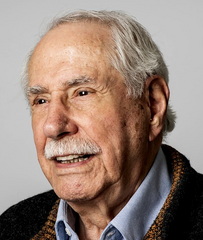 The Presidency of Mike Gravel began on January 20th, 2021 and ended with the death of President Gravel on October 17th, 2022. Mike Gravel was inaugurated at the age of 90, making him the oldest President in American History.
2020 Presidential Campaign
After hearing of the former senator on the leftist podcast "Chapo Trap House", 18 year old David Oks called former senator Mike Gravel to attempt to convince him to run for President. Initially, Senator Gravel was hesitant due to his old age. Initially, David Oks and Henry Williams convinced Gravel that the goal was to push the conversation further to the left on the debate stage rather than for Gravel to actually win the nomination. While Gravel failed to qualify for the June 2019 Democratic-Populist debate, Gravel succeeded in qualifying for the July 2019 debates. During the debates, Gravel attacked frontrunner Senator David Baria of Missisippi going after his more right-wing senate votes. Gravel's old age and blunt mannerisms made him spike to 8% in nationwide polls and 3% in Iowa. Gravel would participate in the September, October, November, and December 2019 debates gaining in the polls every time. By January of 2020, Gravel had become the frontrunners beating out the other major candidates such as Senator Elizabeth Warren of Massachusetts, Governor John Delaney of Maryland, Congresswoman Christine Pelosi of California, and Senator Beto O'Rourke of Texas. Gravel would win the Iowa and New Hampshire primaries.and would win 37 of the 55 contests. Going into the Trenton Democratic Convention, Gravel won 2,205 delegates, securing a plurality and winning the nomination. He chose congresswoman Tulsi Gabbard of Hawaii as his running mate. Well into election day, Gravel was narrowly leading Palin as the 2019 Recession stained Palin's Presidency. On election day, Gravel would win the Presidency with 279 electoral college votes and won the popular vote by 1.5 million.
Transition Period + Inauguration (2020-2021)
During the transition period, Mike Gravel and Sarah Palin met 3 times in the White House. In each time, there was in fact tension due to Palin and Gravel having drastically different ideologies. On January 20th, 2021; Gravel was inaugurated as the 46th President of the United States drawing a crowd of around 6 million people. In Gravel's inauguration speech, he promised to uphold the office of the Presidency and to use the position to the best of his ability to help the American People.
Tenure (2021-2022)
Gravel's tenure was marked by several things, including his old age, his staunch left wing ideology, and his general seclusion from the American public.
Foreign Policy